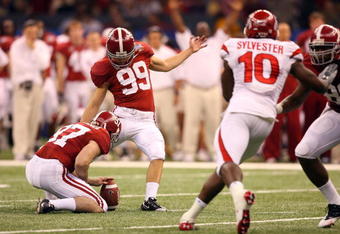 I haven't posted in years....blah,blah,blah. I am back so chill out.
After watching this upsetting #2 Oklahoma St. @ Iowa St. game, I got very mad. One, because I thought I had made an easy $5 with my obviously better Oklahoma St. pick. But no leaving it to a friggin' kicker to ruin the game, ruin Oklahoma St's BCS dreams, and ruin my night. I am so tired of kickers inabilities to kick field goals. It's like college coaches forget to tell them that they would have to make a couple field goals in their career.
-Maybe not, maybe coaches just go into kicker's houses and say, "Hey you seem like you got a good leg. You can hit a 45 yarder no problem right? And you won't shit your pants when I put you in with 5 seconds left to win the game?"
"No Coach I am a little girl and can only hit extra points, and what no one told me I would have to be able to kick in the clutch!!
"Ay son its okay, just look good, put a helmet on and kick it as hard as you can into that little net on the sideline, and when you miss the real thing in the game act confused, and blame the wind and we will be good."
"Sounds good coach."
It just irritates me, and if I was a position player on a team, were my kicker f'd up our chances of winning I would be so irritated. The kicker has one job make field goals, you don't have to run up and down the field all game long, or march up the field to get into field goal position, all you need to do is hit the damn field goal. Make the damn field goal and call it a day. Every other player has been busting his ass off on the field in order to win this game, and it comes down to you to take 5 seconds out of your "hectic, popular" kicker life and kick one field goal. If the national championship is decided by a missed field goal, I will lose the small respect I still have for kickers. Get your s**t together kickers, seriously.
-This is aimed at Leigh Tiffin (Bama's kicker who missed 100 field goals in the Game of the Century), Dan Goodale (Boise's kicker who couldn't get it done to win the game from 39 yards!?!!), and to the most recent choker Oklahoma St's Quinn Sharp who missed a short 37 yarder. I could hit that.)